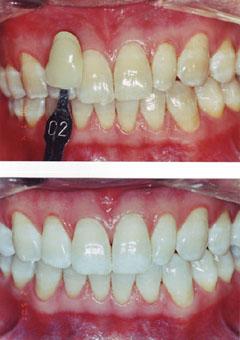 Mirror, mirror on the wall, I want the whitest teeth beyond them all.  But the mirror doesn't have a dental degree nor a basic understanding of what's important here.
Tooth Whitening products are available from many sources and can vary considerably in final cost for the same results.  It's a huge industry with a lot of good and bad information.

The basic chemistry used is carbamyl peroxide which is a relatively stable (good shelf life) and viscous (easy to use) form of peroxide (H2O2).  And then comes the marketing hype, of the safest, easiest to use, no sensitivity and quickest results.  Like toothpaste, over time, all of these products yield very similar results.  The difference comes in how you use or misuse the products.
An extensive study by one of the most respected researchers in the dental field, CRA, established that quick vs. slower acting was inconsequential since all products and techniques yielded very similar results over time.  More important was ease of use and consistent quality of the product.
Tooth Whitening salons have bragged about how quick you can whiten your teeth.  Quite often this is accomplished with the use of a laser or special light source that zooms you to that new "Hollywood smile" right out of  "Glamour" magazine.  What they don't tell you is that a very slight increase in temperature that may occur inside treated teeth can quite often result in irreversible pulpitis and the need for root canal therapy.  The other common source of tooth sensitivity can occur when self fitted and applied trays are left on the teeth too long.  The teeth actually become dehydrated and the sensitivity is similar to a bad hangover.
So what's the best way to whiten those smiley pearls?  First, make sure your teeth and gum tissue is healthy.  A regular exam and cleaning by your dentist or hygienist can insure the conditions are right for effective and successful bleaching.  Quite often we recommend tooth whitening before any cosmetic restorative service in order to get the teeth back to the baseline color you were or wish you were born with.  Next, we discuss different techniques depending on your individual needs and circumstances.  Usually the simplest and cheapest product is a good way to start.  But for some, such as those who have developmentally stained teeth, a more sustained and long term product may be best.  Finally, when using any product, the amount of time per application is no longer than 45 minutes.  The effective half life for this type of chemistry is no longer than this.
The link for "TresWhite Bleaching Trays" is a good example of a quality product that we have obtained consistent and reliable results with.  There are many more out there but as usual, "let the buyer beware".